To explain the invention, it is must to present drawings along with patent application in front of the USPTO. The drawings must follow the guidelines for patent drawing rules set forth by the USPTO to get the success. The drawings do not have to deal with the art, but ought to describe and demonstrate your invention with accuracy and precision. So, if you want to create amazing drawings for your patent, then don't forget to read Patent Drawings Rules mentioned in this blog.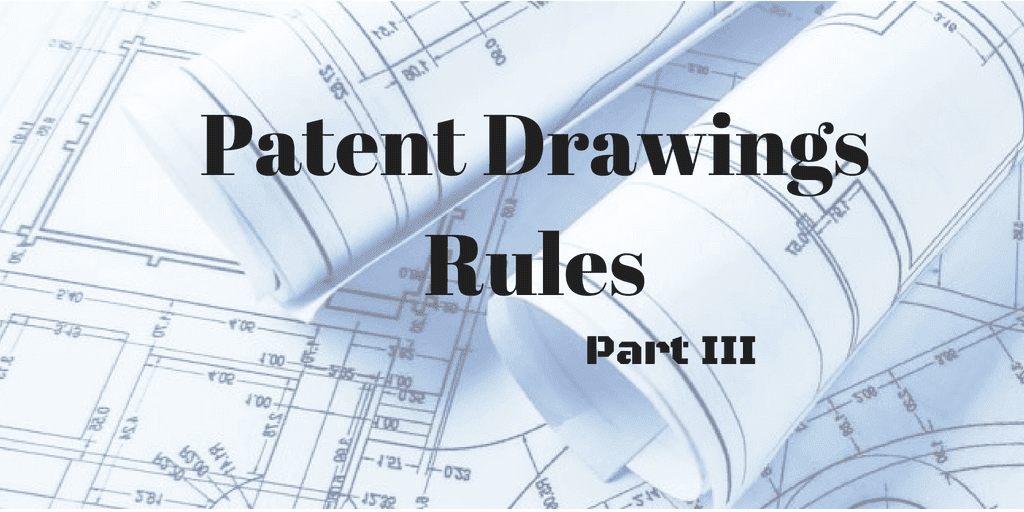 To help you understand all the drawings rules set by the USPTO, we have already presented you a series of 2 blogs namely:
Rules for Patent Drawings: Part I
Rules for Patent Drawings: Part II
Patent Drawings Rules: What Scale to Consider?
The scale used for making drawings must be large enough to represent mechanism without crowding when the drawing gets short in size to two-thirds in reproduction. Allowance of various indications such as "actual size" or "scale ½" on the drawings are not because they lose their respective meaning after being in a different format.
Patent Drawings Rules: To Understand Lines, Numbers, and Letters Character
All drawings must be from a process to provide satisfactory and viable reproduction characteristics. Each line, number, and letters used in the drawing must be clear, durable, black, sufficiently dense and dark and also uniformly thick and well-defined. In addition to this, the weight of all lines and letters used must be substantial to reproduce adequately. The requirement mentioned above applies to all fronts, but considering fine, to borders and shadings shows cut surfaces in sectional views. Lines and strokes having different thickness can be used in same drawing wherein different thickness represents different meaning.
"Drawing is a vision on paper"
-Andrew Loomis-
Do you know how to secure patent drawings? If no, then read and learn top 6 methods to secure your patent drawings.
Patent Drawings Rules: What Shade to Use?
The use of shading in a patent drawing is encouraged if it helps in invention understanding and if it does not reduce legibility. Majorly, shading is used in patent illustrations to represent the shape or surface of cylindrical, spherical and conical elements of an object. Moreover, flat parts in drawings are lightly shaded, and spaced lines are mostly used. Spaced lines used in a drawing must be thin because some in numbers as practicable and should contrast with the rest of the drawings.
In case of shading substitutes, use heavy lines on the object's shade side wherein superimposition on each other or obscure reference characters. Also, light must fall from the upper left corner at an angle of 45 degrees and representation of surface delineation must be by proper shading. No allowance of solid black shading areas except in case of the description of bar graphs or color.
Patent Drawings Rules: Symbols Identification
In patent drawings, we use graphical symbols for conventional elements when available in an appropriate form. In specifications, the factors due to which such symbols and labeled representation are preferred must be properly identified. Description of known devices must be using symbols which stands for conventional meaning and are generally in the art consideration. However, symbols which are not universally available can also be in use subject to approval by the office, If it does not create any confusion with the existing conventional symbols and can be in use easily.
Patent Drawings Rules: When to Use Legends?
In the case of understanding patent drawings, use of appropriate descriptive legends should be there to obtain official approval or may be the requirement of the examiner. They must include as many words as possible.
Patent Drawings Rules: Numbers, Letters, and Reference Characters to Use Properly
Reference characters, sheet numbers, and view numbers should be plain and legible. Also, they should not be used for brackets or inverted commas. Moreover, they should be in a similar way as the view to avoid sheet rotation. Also, the arrangement of the reference character must be there to follow the depicted object profile.
Use of alphabets of English should be for letters, except where other alphabets are for customarily. For example, the use of the Greek alphabet is for indicating angels, wavelengths, as well as mathematical formulae.
Numbers, reference character and letters used in the drawings must measure the height of at least 32 cm which is 1/8 inch. They must not be in the drawings to comprehension interfere. Hence, they must not mingle with the lines. Also, they should not be in the drawings to avoid merging with the lines. Moreover, they must not get surface on a hatch or shade area. In case of requirement to create distinct then underlining of character and blank space may be there in shading or hatching.
If multiple views of a drawing consist of same part of the invention, the designation must be by the identical reference character. The same reference character should never be in use to different parts designation.
Reference characters which are not in the description must not be available in the drawings. However, reference character available in the specification must be present in the drawings.
Also Read:
5 Major Misconceptions About Patent Invention Drawings
Patent Drawings 101: Types, Importance, and Common Mistakes
Patent Drawings Rules: Arrows Use
Use of the lines arrows at the end, such that they provide a clear understanding as below:
On a lead line, a freestanding indicator to show that the complete section towards which it points;
On a lead line, an arrow touching a line to show the surface presented by the line looking along the arrow's direction; or
To indicate a movement direction
Patent Drawings Rules: Copyright or Mask Work Notice
A copyright or mask work notice can be available in the drawing. However, should be in the drawing sight immediately below the figure. It represents the copyright or material of the mask work. Also, it is with restriction to letters with a print size of 32 cm to 64 cm high. Moreover, limitation of the notice content should be there to elements by law.
Copyright inclusion or permission of mass work notice only if the language of authorization outlined in the rule is at the specification initialization.
Patent Drawings Rules: How to Set the Sheets Numbers?
The drawing sheets must be numbered in consecutive Arabic numerals, starting with 1, according to the definition of margins. While putting these numbers, you must place these in the middle of the sheet's top but not in the margin. In case, if the drawing gets an extension which is too close to the top edge middle usable surface, then the numerals can be on the right-hand side. Moreover, drawing sheet numbering should be precise and more significant than the numbers used for reference preference to avoid misunderstanding.
Two Arabic numerals should represent the number of each sheet. The numbers must be placed on either side of an oblique line wherein 1st represent the sheet number. Other represents the total number of drawings sheets, with no other marking.
Patent Drawings Rules: Numbering of Views
In consecutive Arabic numerals starting with 1, the different views should represent the numbers. The sheets are independent of numbers. If feasible, they get the arrangement in the order in which they present in the drawing sheet.
Numbers and letters which represent the views ought to be clean and straightforward. Moreover, numbers and letters concerning brackets, circles, or inverted commas are not much useful. The numbers of views should be more abundant in comparison to the numbers used for reference characters.
Patent Drawings Rules: How to Mark Security?
On the drawings authorization security, markings to be there where they exist outside the sight, preferably available on the top margin.
Patent Drawings Rules: Corrections and Holes
Any corrections on drawings submitted to the Office must be durable and permanent. However, the applicant should not take any hole in the drawing sheets.
Need a Professional for Patent Drawings? – PatSketch
At PatSketch, we offer quick, economical, and accurate patent illustration services to our clients. Our aim is to create impressive patent drawings . No matter, how hard your patent drawing is, we have the best drafts-men. They handle all your drawings with 100% compliance to patent office rules. To know more about our services, please visit our service page.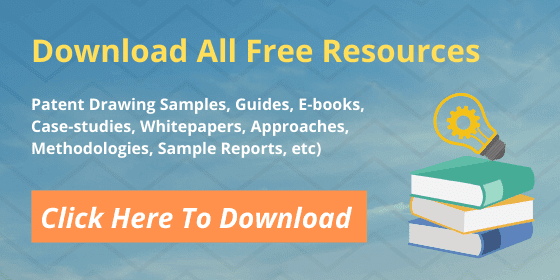 Here you can Download our All free Resources:
Patent Drawing Samples, Guides, E-books, Case-studies, Whitepapers, Approaches, Methodologies, Sample Reports, etc.