Patent drawing is not a compulsory component while intending to protect an invention, but it could be of immense use considering the long-term benefits it offer to the applicant. And thus with an aim to provide quality drawings for patients at affordable price PatSketch came into existence.  patent drawing service provider
Though, there are plenty of patent drawing service providers available these days but PatSketch is the one that has revolutionized the way patent drawing services are offered to businesses. Below are some of the reasons that will outline why should companies hire PatSketch as their patent drawing service provider.
Reasons to Hire PatSketch Patent Drawing Service Provider
Professional draftspersons- PatSketch is equipped with a team of professional draftspersons who have been creating illustrations for patents since last 5 years. They are well acquainted with rules of patent drawing and at the same time are aesthetically inclined towards arts and crafts.
Aesthetically sound draftspersons- Creating patent drawings for inventions is not something that requires technical knowledge only, it also requires an inclination towards aesthetics and arts. We hire professional draftspersons those are aesthetically also inclined towards arts and craftsmanship.
High Quality-All patent drawings we create not only meet the PTO guidelines but are also of high quality so that it looks aesthetically sound and incorporate all the features you desire.
Cost-effective prices- PatSketch believes in constructive business and thus all our prices are cost-effective and as per the industry standards.
Convenient- We have taken utmost care to ensure that the whole process remains easy and convenient and thus you can attach your existing drawings resources directly on the website and you needn't have to bother anything more.
Reporting as per client's need- No matter whether you require hard copy of the drawing or the soft copy we are willing to offer you the same. We help clients come up with the desired patent drawing.
Reviews and amendments- In case you are not satisfied with the initial drawing, we will assist you to make required amendments.
Timely delivery of your patent drawing- It's important for clients to present their idea to the respective patent office at the appropriate time failing which can compromise your business objective, and here comes the importance of timely delivery of patent drawings. And thus, it's important for service seekers to establish right at the beginning that their drawing will be delivered timely.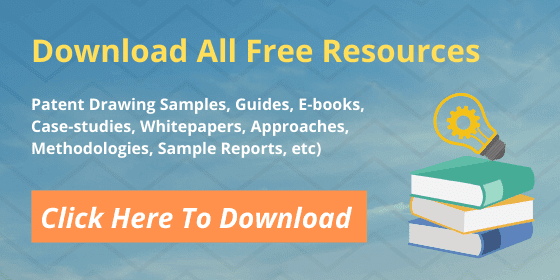 Here you can Download our All free Resources:
Patent Drawing Samples, Guides, E-books, Case-studies, Whitepapers, Approaches, Methodologies, Sample Reports, etc.