Patent drawings or illustrations for patents are the easiest visual form of understanding an invention. Though, it is not compulsory for applicants to include a drawing for their invention still it is recommended as it can help a lot down the line. There are many companies that offer patent drawing services to their clients these days but "PatSketch" is the one that requires special attention. With this article, our main aim is to highlight those advantages that a client can enjoy after hiring PatSketch
Reliable patent drawing partner-Creating drawings for patents could be a tough nut to crack for those who are new to this domain and whose area of operation is something else than creating drawings. Recruiting, training and equipping an in-house team of draftspersons could be a costly affair for these companies and thus in such a situation, PatSketch could be handy. With PatSketch you can rest in peace that you are in true hands and your drawings related works will be accomplished as per the rules.
Well-acquainted with patent drawing rules– Creating drawings for patents is completely different from normal kind of drawings wherein we need to adhere to regulatory norms and rules put forth by respective PTO. PatSketch is equipped with a team of patent drawing experts who are well-equipped with drawing rules of various patent offices.
Flat Price – PatSketch believes in charging judicious price for all its services and thus has come-up with a flat rate of $ 25 Per Figure (For Utility Drawings) and $ 35 Per Figure (For design drawings). There is no hidden charge or cost so as to avoid any kind of confusion at latter stage.
Superb Quality- Patent drawing is something that not only requires technical know-how but aesthetic bent of mind as well, wherein the draftsperson should have an intrinsic inclination towards arts and aesthetics. All our draftspersons are not only well aware of patent drawing rules but are also artists in their intrinsic nature.
Maintaining Confidentiality- In the domain of IP, confidentiality is something that is of utmost importance and every measure should be taken to ensure that your ideas, information, and documents are in safe hands. With PatSketch you can rest in peace that all your pertinent information is safe and protected.
Minimum inputs- PatSketch has a team of professional draftspersons who have been working in this domain since last few years and thus know the tricks of the trade. Even if, you have minimum possible inputs we can create drawings out of that, which is acceptable to the respective patent office. No matter whether you have sketches, photographs, videos, prototypes or anything else our draftsperson will make it a sensible drawing.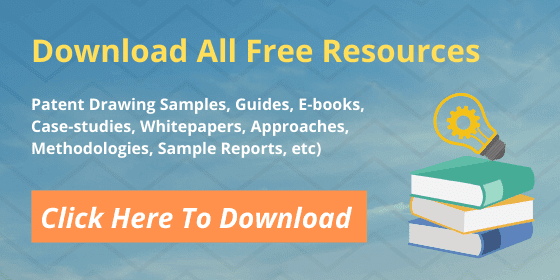 Here you can Download our All free Resources:
Patent Drawing Samples, Guides, E-books, Case-studies, Whitepapers, Approaches, Methodologies, Sample Reports, etc.