Patent drawing rules are the guidelines set by the USPTO for the applicant in terms of photographs, flowcharts, graphs, drawings, etc. While filing for a Patent application, keep the rules in priority.
Basically, Provisional Patent applications don't require drawings but non-Provisional Patent requires a minimum of one drawing. While working on these drawings, you must keep in mind Patent application process rules, which include:
Use only black and white colors. You can use other colors also if required.
You must use India ink only.
The scale of the drawing must be 2/3 the size of the reduced illustration.
Also, the drawing must include application number, Inventor's name, Invention's name, and identification.
Size of the drawing must be 11inch by 8.5 inches and must be white in color. It must be flexible, plane, non-shiny and free of overwriting, alterations and marks of erasing.
A margin of 1 inch at the top and left side, 3/8 inch at the right side and 5/8 inch at the bottom.
Use formulas but each one of it must represent a unique figure. You must keep the related information within the brackets.
You must avoid superimposing.
Also, you can use symbols but you must avoid solid shading.
Numbering should be proper with guidelines to the respective parts.
You should not limit the drawings to just illustrations; one can also add graphs, charts, and process diagrams. However, if you want to add photographs then make sure that they are in high definition.
Importance of Patent Drawing Rules
Our application will be considered incomplete, we If we fail to follow Patent drawing rules. This can cause a delay in the filing of the Patent. It may give a chance to other competitors with similar ideas to take advantage of the situation.
Understanding and following the Patent drawings rules help the applicant to get a better hold of the Patent application process. He\she can utilize it for further filings in the future.
The early filing of the Patent application with the proper drawing rules increases its priority among similar Patents that are filed later. Working according to the Patent drawing rules also helps to save a lot of time and money as the Applicant has a higher chance of getting the Patent accepted for the first time.
Useful guidelines by USPTO
There are some key points provided by USPTO that may help to increase the documental value of your Patent drawing.
Neat and clean working is appreciated in terms of numbering, texts, and graphs.
There should be no error, overwriting or erasing mark on the drawing and overall neatness should be maintained.
Always prefer using the matrix system as it is widely accepted.
The applicant should try to make more eye-catching and creative drawings.
Are we the one to trust?
As we mentioned earlier, sometimes, making your drawings can be an extremely difficult task. There are a lot of guidelines that you need to adhere to.
If you need a patent illustrator, PatSketch is at your service. We have the expertise and widest range of software/technologies to cater to any and every output format that exists. Our motto is 100% satisfaction of our customers. We offer timely solutions and are willing to make any number of iterations to meet your specific requirements. Our affordable prices ensure that we don't bore a hole in your pocket.
Visit us to avail our Patent Drawings Services.
Other Related Article:
How to Invest less in Patent Drawings?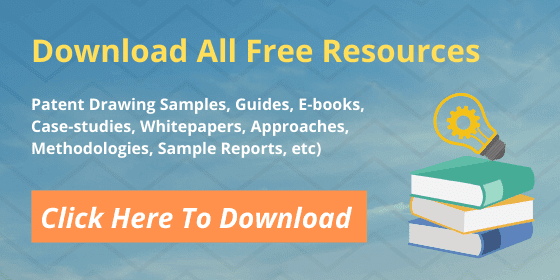 Here you can Download our All free Resources:
Patent Drawing Samples, Guides, E-books, Case-studies, Whitepapers, Approaches, Methodologies, Sample Reports, etc.