The representation of solid parts of an object on a computer is called as Solid Modelling. This is one of the most advanced methods of geometric modeling in three dimensions. In fact, a geometric model is made up of wireframes that show the object in the form of wires. When we add surface representation to the wire three-dimensional views of geometric models it makes the object appear solid on the computer screen and this is what is called as solid modeling.
In other words, we can say is that Solid Modeling is a modeling that provides a complete representation of an object than a wire-frame modeling and surface modeling. In this model, the appearance of an object is displayed in a solid design. 3D solid modeling is a critical aspect of modern product development and provides the basis for design, simulation, and manufacturing of any part and assembly across a broad range of industries, applications, and products.
Process of making solid modeling
Step 1-To make the solid models you have to first make the wire frame model of the object and convert it into 3D view.
Step 2-Thereafter the surfaces are added to the 3D wire model to convert it into 3D solid model.
Advantages of 3D Modelling
3D modeling adds reality to the object
The object can be shown in various views
It gives additional vision to the designer
With this, we can create 3D solid models of any part and assembly, no matter how large or complex it is
It let designers make variations of a design quickly by controlling key design parameters
Even complex organic and stylized shapes can be created without putting much stress
Any solid mass property and volume (mass, density, volume,) can be explained in a better way.
Uses of Solid Modeling
Solid modeling is used in various domains these days to create designs that can convey full understanding to manufacturers or the party for whom the design is being created. Some of the important domains where it is being used widely are:
1) Engineering
2) Entertainment industry
3) Manufacturing
4) Aeronautics and space science
Importance of solid modeling for inventors
Solid modeling is one of the most efficient methods of communication between the inventor and the designer responsible for transforming the idea into a manufactured product
When it comes to incorporating revisions suggested by the inventor 3d modeling offers plenty of options and opportunities which can't be availed otherwise.
Solid modeling is a very efficient way of making prototypes as it relies on "Computer Controlled Prototype Production" technology
Solid drawings can make patent drawings even more clearer and thus can help examiners understand the invention better.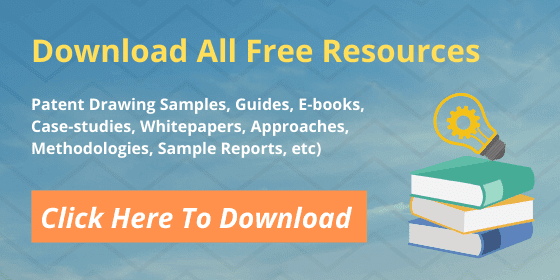 Here you can Download our All free Resources:
Patent Drawing Samples, Guides, E-books, Case-studies, Whitepapers, Approaches, Methodologies, Sample Reports, etc.