No matter, whether you are drafting a provisional patent application or a complete application, subject matter disclosure is important. Subject matter disclosure can be done either by including specific texts and/or by including patent drawings. However, we must agree that a picture speaks thousand words and it is advisable to include drawings wherever you can. The simple reason for the same is that if a particular feature of an invention is clearly visible in the drawings and could be understood by a person skilled in the art by means of drawings, the drawings alone may be considered sufficient for subject matter disclosure purposes.
However creating drawings for patents is not like normal drawings, here we are supposed to adhere to patent drawing rules put forth by respective patent offices. At the same time you should have clear understanding of the domain your invention belongs to. Thus, it is important that the person who creates your drawing is an expert patent illustrator and has sufficient exposure in the arena of patent drawing.
In case you are an uninitiated inventor and wish to create a patent drawing for your invention hiring an expert patent illustrator could be the best way to go for. There are plenty of reasons for hiring a patent illustrator and some of them are as follows:

Why to Hire Expert Patent Illustrator for Your Patent Drawings
They are inborn artists- Patent drawing is a domain that requires an inherent inclination towards arts. The imagination of the draft person should be more than sufficient to appeal to the viewer. If you are not much of an imaginative kind of person you will not be able to do justice with your work and this is why we need people who can make appealing patent drawings.
They know patent regulatory norms- While it's true that an expert patent illustrator should be an imaginative person at the same time if he/she is not well-acquainted with the patent regulatory norms he may not come up with a patent drawing that is in compliance with the patent offices. For example, even a single line used in a patent drawing can make or break your whole attempt, because every line-type that we use in a patent drawing has a different and specific meaning. You can't just include any line-type you want. The importance of regulatory compliance is evident with a single line. An expert patent illustrator is one who understands these nuances of patent drawing and is well-acquainted with all the patent drawing regulatory norms.
They are technical also-The computer and technological advancement has revolutionized every sphere of our life and same goes for patent drawings as well. The traditional methods of paper-pen drawing have been replaced by software-based drawings wherein we use sophisticated computer software to make our work. Computer Aided Designing is one of those technologies that have revolutionized the way patent drawings are being made. In this digital era, we can't conceive a patent illustrator to be merely a sketcher, rather, he should be well equipped with latest computer technologies those are used to create drawings for patents. An expert patent illustrator is equipped with all these sophisticated and modern technologies that can make a drawing accurate and precise.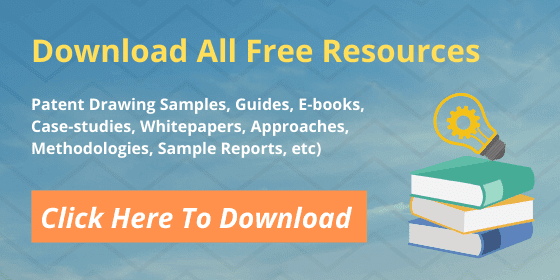 Here you can Download our All free Resources:
Patent Drawing Samples, Guides, E-books, Case-studies, Whitepapers, Approaches, Methodologies, Sample Reports, etc.