According to patent drawing rules, a patent illustrator should use as many views as possible to let examiners understand the invention and its features. There are many views that a drafts person can use to represent their idea with the patent office like USPTO. Below are some of the views those are widely used by patent illustration service providers and draftsperson.

Important Views a Patent Illustrator Should Consider:
Isometric views: Isometric view, is one of the most important patent drawing views that we use in illustrations for patents. An Isometric view can be defined as a pictorial representation of an object in which all three dimensions are drawn at full scale rather than foreshortening them to the true projection is called as Isometric view.
In isometric projection, the angles between the projection of the axes are equal i.e. 120º. It is important to stress that it is the angle between the projection of the axes that are being discussed and not the true angles between the axes themselves which are always 90º.
Orthogonal and Perspective views:
Including an orthogonal view is not mandatory as per statutory rules of various countries still, it can add a lot in understanding the invention.
Orthogonal Projection is a way of drawing a 3D object from different directions. Usually, a front, side and plan view is drawn so that a person looking at the drawing can see all the important sides. Orthographic drawings are useful especially when a design has been developed to a stage whereby it is almost ready to manufacture.
Sectional views: Sections are used to clarify the interior construction of a part that cannot be clearly described by hidden lines in exterior views. By taking an imaginary cut through the object and removing a portion, the inside features may be seen more clearly. Putting it differently we can say that a sectional view can clearly bring out elements of the design. A sectional view presented to show functional features or interior structure that is not part of the claimed design, is neither required nor permitted.
Duplicate views: Duplicate views are another kind of patent drawing view that a patent illustrator use while making a patent drawing. If the left and right sides of a design are identical or a mirror image, a view should be provided on one side and a statement made in the illustration description that the other side is identical or a mirror image.
Exploded views: If your design has parts that are separable during normal use, you may include an exploded view.
Plain and un-ornamented view: A view of any side of a design which is plain and unornamented, such as the flat bottom of a speaker could help patent examiners get the real feel of the drawing.
Flat objects: A thin and flat object such as a quilt, or an embossed design is also used to demonstrate the front and rear view of an object.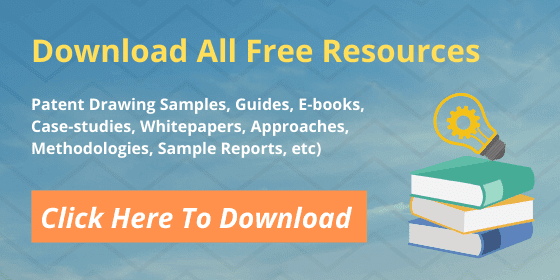 Here you can Download our All free Resources:
Patent Drawing Samples, Guides, E-books, Case-studies, Whitepapers, Approaches, Methodologies, Sample Reports, etc.