Patent drawing or patent illustration is one of the most important elements of patent documents that are submitted to respective patent offices like U.S. Patent Office or EPO. Though it is not mandatory to include a drawing to your documents still it is prudent.
Since, our main goal here is to get our patent approved; a well-crafted patent illustration or patent drawing can help in achieving the same in many ways. Not only it help others know every functionality of the invention, but can also expedite the patent granting process by letting examiners take minimum time in reviewing it.
Right from the inception of the patent regimen, people have been using drawing to support their inventions and ideas, however, the methods of creating a patent drawing is becoming more and more sophisticated, refined and advanced. This article is an attempt to outline those methods and its elements to make our drawings worthy and appealing.
Drawing with Pen, Ruler and Instruments: This is the traditional method of creating a patent drawing that has been used by people down the ages. Though with the advancement of technology it is losing its importance still if you enjoy drawing in traditional method it will be a fun.
Tools Needed for Patent Drawing in Traditional Method: Some of the important tools that we will need while creating patent drawings are:
Pencils for Preliminary Sketches
Ink drafting pens for drawing ink lines
Rulers for making straight lines
Triangles for making angled lines
Templates for making certain standard shapes
Compasses
Curve rules for drawing curve
An optional drafting table
High quality ink drawing paper
Techniques used in Pen and Ruler Drawing: Some of the important techniques we can use to create a patent drawing are described below.
Drawing from scratch: Drawing from scratch requires some basic drawing skills and if you enjoy drawing then it can be an awesome experience. With this, we make drawing by visualizing the object in mind, carefully sketching that visualized image on the paper with a pencil, correcting it unless it looks about right and finally inking in the lines.
Tracing: Tracing is another important traditional patent drawing techniques that we use to make patent drawing for inventions. With this technique we trace a photograph of an object that we want to draw with tracing paper. In case we are interested in making an exact three-dimensional image of an object the same can be achieved by using 'Camera Lucida' that can be purchased through various vendors.
Drawing with a Computer: Drawing with a computer is another method we usually employ these days to create stunning and accurate scientific illustrations. Compared to traditional method of drawing, it's easier and can take less time. Popularly known as Computer Aided Designing, this drawing technique is being used by inventors, architects and other design professionals to create patent illustrations that can appeal to patent offices and associated individuals. Another important benefit of CAD is that it allows people to produce accurate drawings even if you consider yourself to have little or no artistic ability.
Tools needed for creating patent illustrations in CAD Method: Some of the important tools that we need to create patent drawings with CAD are:
A computer
A laser or ink jet printer
A CAD program
A scanner (optional)
A digital camera (optional)
Method of creating patent drawing with CAD
In case, you have a scanner you can scan the object and load it to your CAD software and trace it easily. In case you are using a digital camera you can transfer your object from there only to your CAD software through a cable and trace it accordingly. The rest is all about how efficient you are in Computer Aided Designing as it is important to understand the interface and use it accordingly.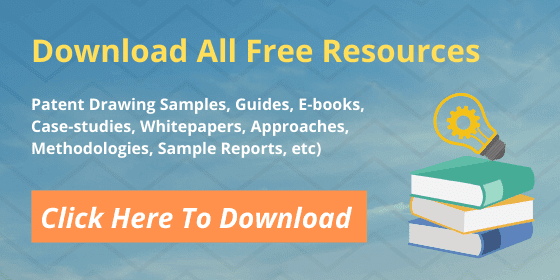 Here you can Download our All free Resources:
Patent Drawing Samples, Guides, E-books, Case-studies, Whitepapers, Approaches, Methodologies, Sample Reports, etc.