We know that visual representation is more effective than textual representation and the same is true for patent applications. Rather than presenting just a written description to the patent examiner, it is much more worthwhile to have patent drawings or patent illustrations accompanying the description.
Though patent offices like USPTO and EPO have not made it mandatory and applicants have the liberty of submitting a patent application without an illustration. All we can say is that patent drawing is one of the most important aspects of a patent application and it is advised that every patent application should be accompanied by a drawing so as to increase the probability of the patent being granted.

Read Also: Tips for Patent Illustrations while Applying Patent Applications
Purposes of Patent Drawings
There are many purposes that a patent drawing serves to an applicant and this article is aimed at highlighting those purposes.
Helps in clear understanding of the invention: Though a patent drawing serves many purposes but the primary purpose is to help in clear understanding of the invention. With the help of several views, embodiments, stages, flow charts, chemical equations and photographs, the patent drawings make the invention more readable, digestible and understandable.
Helps in drawing the attention of the prospective licensee: Patent drawings contain reference numerals those are used by the patent attorneys for detailed description. These reference numerals are used for drawing the attention of the prospective licensee and allowing him to easily envision the final product when it will be launched and sold to the end user.
Assists in prosecution: When things are not clear textually, drawing can help people get things cleared and it is of immense use when you are facing litigation and you are supposed to make things clear in the court.
Reduce probable time of granting patent: A drawing helps examiners understand the invention better without investing time and energy on USC 112 office actions and seeking clarity from the applicants. This helps in potentially getting patent granted in less time compared to those applications that are devoid of drawings.
In a nutshell we can say that though it's not necessary to include a drawing in a utility patent application or a design patent application still it is advisable as it has plenty of benefits that an applicant can avail in long run.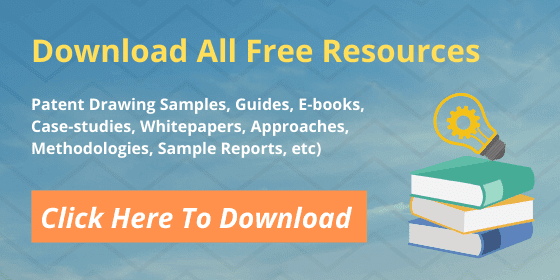 Here you can Download our All free Resources:
Patent Drawing Samples, Guides, E-books, Case-studies, Whitepapers, Approaches, Methodologies, Sample Reports, etc.