Patent drawings are the visual form of patent description. Invention drawings provide the best possible way to understand the details of the invention, without reading the complete specifications. There is no law that claims the inclusion of drawings as a compulsion. However, since it helps to understand well in less time, it is wise to use. The drawings must include every feature of the invention as specified in the claims. Patent drawings can be anything. Be it an illustration of embodiments, chemical equations, stages, flow charts, reference numbers, several views, or invention photographs.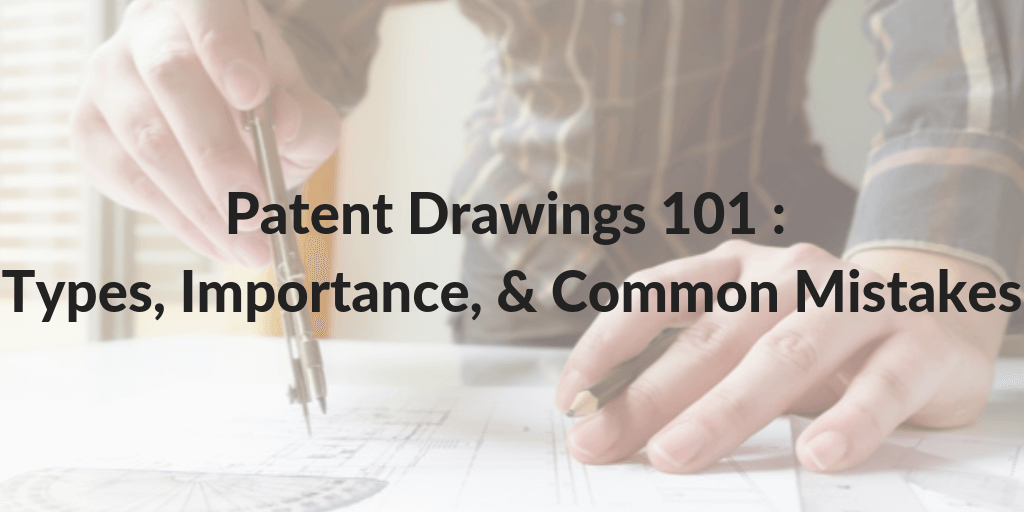 Patent Drawings 101
Patent Drawings 101: Categories
It has been classified into the following three categories, on the basis of the type of patent application:
Utility Patent Drawings: They are the drawings which describe utility patents. These drawings mainly focus on depicting the functioning of all elements of the invention. These have reference numbers to correlate each other. It can include line drawings showing object shapes, flow charts, electric circuits, block diagrams, chemical formulas, etc.
Further, it can even be depicted through a number of views, such as orthogonal and perspective, isometric, partial, exploded, sectional, alternate, and enlarged views. patent drawings 101
Design Patent Drawings: They are the drawings that present the ornamental design of a functional item, such as jewelry, computer icons, furniture, etc. These drawings mainly focus on depicting the appearance and aesthetic of the invention. Special focus remains on shades, contour, and material textures of the invention, to enhance its precision. They do not have reference numbers to correlate each other.
Further, it can even be depicted through a number of views, such as standard, exploded, enlarged, isometric, sectional, and movable views.
Plant Patent Drawings: These types of drawings are a bit different from utility and design patent drawings. These do not use reference characters to visualize any shape or process, instead, they use colored or black-and-white drawings. The color drawings include photographs or images made in permanent watercolor or oil
Patent Drawings 101: Importance
Patent drawings are useful due to the following reasons:
Inventor's perspective: Drawings are useful for the inventor in two ways, such as the use of drawings not only adds more value and clear objective to his/her work but also it makes it easier for his/her to explain the invention to a concerned person.
Subject-matter expert's perspective: Subject matter experts do possess specialization in technical knowledge about the invention. Through the use of drawings, they can enhance the efficiency of inventor's work. They can help the inventor to present his/her work with more visual influence in front of the examiner, thus enhancing his own reputation in front of the inventor.
Patent examiner's perspective: Drawings makes the invention more precise and easy to understand, depending on the type of invention. This saves time and efforts of the subject matter expert, which makes the invention more likely to get patent protection.
Future inventor's perspective: Drawings helps in the understanding of the work more appropriately by any individual who wishes to work on that same topic.
Patent Drawings 101: Common Mistakes
The inclusion of drawings within the application enhances the understandability and chances of earning the patent. But at the same, some of the very common mistakes not only ruins the inventor's hope but also leads the application on the verge of rejection. Some of these are below in detail.
Lack of diagrams:  Explanation of some inventions cannot be proper without the use of diagrams. The absence of proper diagrams can lead to rejection of the patent. Some of those areas include the invention of algorithms, processes, and chemical formulas, etc.
Unclear diagrams: Some inventions include diagrams, but those diagrams fail to depict its functioning or scope, properly or clearly. This includes the use of faded ink for colors, lack of marking at some elements, lack of some features of claims, use of improper reference numbers, and presence of reference numbers but missed some of them, etc.
Encounter objections: Drawings are not reviewed by an Office draftsperson; instead an Office draftsperson reviews only if the examiner seeks the draftsperson's assistance in identifying errors in the drawings. If he finds that they are unacceptable, the draftsperson provides a 'Notice of Draftsperson's Patent Drawing Review' and provides it to the examiner for handing it over back to the inventor to review it once again. 

Patent Drawings 101
Lag in the documentation: Sometimes, we submit drawings (color photographs or drawings) without filing the necessary petition. This depicts that there are no drawings present, relating to the patent application. It is because the filing of its record is not there.
Quality issues:  If you are using poor quality papers for drawings then there are chances of drawings erase and paper tear after some course of time. And even drawings are done with a pencil or other nonblack writing instrument, or on an ink-jet printer, which is totally objectionable. There can be even a case when the drawings are incomplete, presence of overwriting where the elements are marked, use of unacceptable paper sizes, lack of proper margin, lack of hatching in section or cut views, presence of exploded view but not enclosed by a bracket, presence of section or cut view but the section plane not included in general view, use of multiple orientations in a single sheet, use of small drawings to depict complex attributes, use of poor shades that hides the shape or contour details, and when numbering is done in non-Arabic numerals.
Unresolved issues: Sometimes, the patent examiner asks the inventor to improve the quality, design, etc. (whichever was missing in accordance with the standards), and visit again in a certain given time. And even after pointing out the missing points, the inventor misses rectification of some of those. Due to which the application goes back again for consideration.
There are certain already existing standards as well that patent drawings/illustrations have to comply. Inability to follow the standards and lack of full knowledge about patent drawings can cause objections during patent examination. It results in increased patent prosecution time and cost. Thus, before filing you must do the checking and verification of all the issues. This is because the patent examiner looks into every minute detail of the claims that are present in the application. And even the absence or incorrect presence of any one of the unleaded claims could lead to rejection. In view of the foregoing discussion, it is important to acknowledge with certain predefined standards.
For a detailed walkthrough of the process kindly visit our website.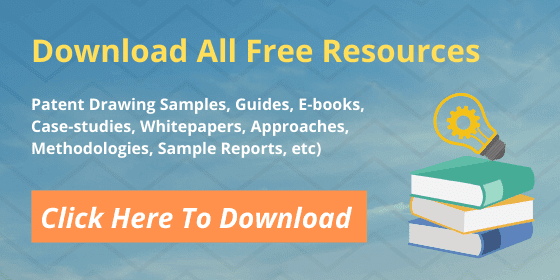 Here you can Download our All free Resources:
Patent Drawing Samples, Guides, E-books, Case-studies, Whitepapers, Approaches, Methodologies, Sample Reports, etc.